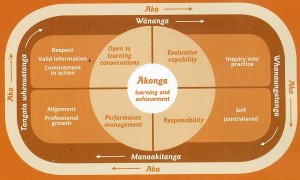 Barbara Watson and Bridgit Williams are the ECE facilitators for the Teaching (Education) Council on the "Appraisal for Teachers" and  "What is evidence?" and "Our Code, Our Standards" workshops and also professional learning focused on strengthening appraisal of leaders in ECE.  This work includes appraisal system design and effective evidencing of teaching practice for the purposes of appraisal and renewal of practising certificates. In 2019 our association with the Teaching Council continues as we facilitate "Moving on with the Code and Standards" across the country.
inspirED ECE have been the only ECE facilitators in the country involved in this work therefore we are uniquely placed to support you in all aspects of appraisal system design and implementation, including working with appraisers to develop their skill and confidence to appraise teachers effectively. In working with us you can be confident that content and messaging is aligned with Teaching Council expectations (and therefore ERO) and that your appraisal system will support increased teacher effectiveness and positive outcomes for children's learning.
We customise a PLD solution that will meet your team's specific needs. Some examples of the work we do are:
Consultancy to strengthen appraisal in your setting: This is a fully customised service. A facilitator works with you to develop or refine your appraisal system so that it is a meaningful process supporting teacher learning and development. The scope and duration of the work is negotiated but may include any or all of the following:  feedback on your current system, support in design and development of a system, appraisal skill-building and/or whole team PLD on understanding the teachers' role in appraisal.
Appraiser skills workshop: This four hour workshop is designed to assist you to develop  your  capability to be an effective appraiser of teachers' practice. It includes observation and feedback, leading learning conversations and summary reporting.